Murr Elektronik

Connection Technology
Murr Elektronik is a leading supplier of cordsets, with an almost infinite variety of cable types, colors and connector styles. The M8 and M12 connectors as well as the valve connectors are available as pre-wired models, with almost all cable lengths. LED and suppression are also available integrated. Useful adapters and T-couplers increase installation options. The torque wrench is a useful tool and ensure sealed connections.
Product Overview
Adapters
Cables by the meter
Field-wireable connectors
Fieldbus cables
Motor cables
Sensor Actuator Cables
T-Couplers
Torque Wrench

Interfaces
Interfaces from the cabinet to the field are an essential part of many installation concepts. Murr Elektronik offers a comprehensive product range for quick connections, easy separations and for connecting diagnostic equipment. The components can be used variably. Power outlets for the cabinet and bright lighting elements complement the product line.
Product Overview
Lighting elements
Modlink MPV
Modlink MSDD
Modlink MSVD
MSDD Hybrid Fieldbus Couplings
Popular Product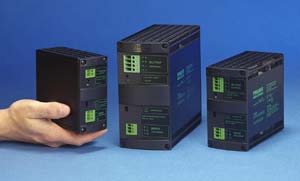 Power Supplies
Industrial power supplies from Murrelektronik's new MCS Series are UL508-rated and CE-certified - are extremely compact and lightweight compared to traditional linear power supplies. Engineered for easy "plug-and-play" DIN-rail mounting, the MCS Series features fully enclosed construction and finger-safe design. It offers full protection against short circuit, overload/overvoltage and overheating, and it doesn't require a secondary fuse.
Popular Product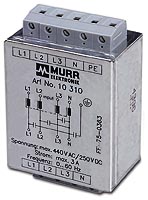 Surge Suppression: Main Filters
Mains filters work in two ways. They reduce emission from electrical devices and, at the same time, increase immunity against external interference. Mains filters are integrated into power supply leads if the interference comes from a permanent source. Devices that continuously generate interference voltages and currents include switch-mode power supplies, phase controls, electronics for data transfer, etc.
Popular Product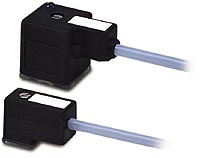 Valve Connectors: MSUD Plug Connectors With Cables
Valve plug, DIN 43650 Form A, B, C as well as Industry standard plug, pin spacing 11/9.4 mm for solenoid valves and pressure switches
Various cable lengths to meet your requirements
Pre-wired connection cable reduces wiring costs and time
Integrated suppression circuit for EMC-compatible installation
LED for status indication
Bridged earth contact (PE) allows 0° or 180° plug orientation
Popular Product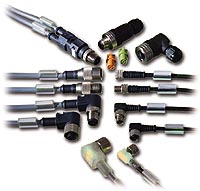 VM12 / M8 Connectors For Sensors
Sensor and actuator connections using M8/M12 round plugs with 3, 4, or 5 poles, straight or 90-degree.
Connectors pre-wired or for wiring in the field
Various cable lengths to meet your requirements
LED status indicator option
Vibration-proof fitting
Rated IP67 for use in wet & dusty environments