Series MN – Aluminum Cylinders

Aluminum Construction
250 PSI Air Service
Standard NFPA Mounting Styles
1.5" through 8" Bores
Milwaukee Series "MN" pneumatic cylinders are built to perform on the toughest applications. Incorporating a variety of Milwaukee "Exclusive" advanced features, proven through the years, these cylinders will provide a long, maintenance-free service life. Advanced engineering combined with quality materials and expert workmanship contribute to the making of a rugged, top quality pneumatic cylinder.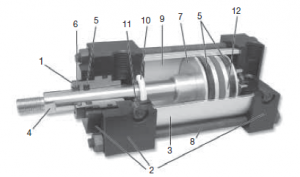 Features
Floating Rod Bushing

Precision machined from 150,000 psi rated graphite filled cast iron and PTFE coated to reduce friction and extend cylce life. Bushing design "traps" lubrication in effective bearing area.

Head, Cap & Retainer

Precision machined from high strength 6061-T6 aluminum alloy. Black anodized for corrosion resistance.

Cylinder Tube

Precision machined from 6063-T6832 high tensile aluminum alloy and hard coat to 60 Rc for wear resistance and extended cycle life.

Piston Rod

Precision machined from high yield, polished and hard chrome plated steel.

Piston and Rod Seals

Heavy lip design Buna-N Nitrile construction. Seals are pressure activated and wear compensating with PTFE piston wear band fro log life. (Self lubricating material.)

Rod Wiper

Abrasion resistant urethane provides aggressive wiping action in all environments. External lip design prevents debris from entering cylinder.

Piston

Precision machined 6061-T651 alloy aluminum, provides an excellent bearing surface for extended cylinder life.

Tie-Rods

Prestressed high carbon steel tie rod construction eliminates axial loading of cylinder tube and maintains compression on tube and end seals.

Permanent Lubrication

Permanently lubricated with PTFE based grease on all internal components. This is non-migratory type high performance grease providing outstanding service life. No additional lubrication is required.

Cushions

Floating cushion seal designed for maximum cushion performance, quick return stroke break-away and extended life.

Cushion Adjustment Needle

Adjustable steel needle design has fine thread metering and is positively captured to prevent needle ejection during adjustment.