Series H - Heavy Duty Hydraulic Cylinders

Steel Construction
3000 PSI Hydraulic Service
5000 PSI Non-Shock Service
1.5" through 12" Bores Cataloged
Larger Bores Available
Milwaukee Series "H" hydraulic cylinders are built to perform on the toughest applications. Incorporating a variety of Milwaukee "Exclusive" advanced features, proven through the years, these cylinders will provide a long, maintenance-free service life. Advanced engineering combined with quality materials and expert workmanship contributes to the making of a rugged, top quality hydraulic cylinder.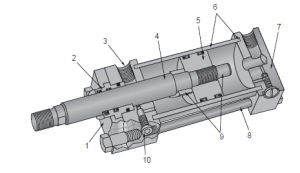 Features
Removeable Retainer Plate

The retainer plated and rod bushing are externally removable without disassembling the cylinder on most standard models. For capscrews securely hold and lock the retainer plate in place.

Rod Bushing and Seals

A combination of spring loaded multiple lip vee rings with a supporting bronze bushing is standard in Milwaukee Cylinder Series H Cylinders.

Ports

Large NPTF cylinder ports are standard and can be located to customer requirements. SAE ports optional

Piston Rod

The piston rod is of high strength steel, hardened and plated to resist scoring and corrosion, assuring maximum life.

Piston

The piston is of fine grained alloy iron, incorporating a combination of u-cup seals and cast iron rings, ensuring non-leak Hi-Lo pressure performance. The piston is pilot fitted and threaded to the rod.

Cylinder Barrel and Seals

The barrel is of steel tubing, honed to a fine finish to assure superior sealing, minimum friction and maximum seal life. It is step cut on the O.D. of both ends for an O-Ring and molded back-up washer. Milwaukee Cylinder's unique non-extrusion barrel seal design provides a positive leak tight seal.

End Caps

End caps and mounting are of high quality steel, precision machined for accurate mounting.

Tie-Rods and Nuts

The tie-rods are constructed from a high quality medium carbon steel. On most sizes the threads are rolled for rigid engagement of the selt-locking nuts.

Cushions

Cushion are machined to close tolerance to provide positive, smooth deceleration at the end of stoke. on all bore sizes, we provide the longest cushion possible based on the rod size and blind end cpas. Longer cushions are available; for further information, consult factory.

Cushion Needle Adjustment and Ball Check

The cushion needle adjustment valve and cushion-check ball retainer screw are specifically designed to provide full cushion adjustment.