Vane And Piston Pumps
PVR Series Vane Pumps
The patented walking ring and hydrodynamic journal bearings maximize your pipe life for the lowest cost of ownership on the PVR series of pumps. With spring-to-load and horsepower limiting controls, our pumps deliver the control your operation needs. Applications include steel mills, mines, shipyards, foundries, automotive plants, textile mills, pulp mills and paper mills.
4-15 GPM, 2000 PSI rated at full flow
20-70 GPM, 1500 PSI rated at full flow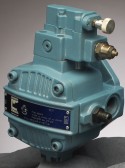 PVX Series Vane Pumps
The ultra-quiet PVX series of pumps have 5 different control options available to meet your system needs. The significant advances in noise reduction make it a perfect match for many applications, such as brick and block plants, poultry processing systems, foundries and mines.
8-16 GPM, 3000 PSI rated at full flow
46-75 GPM, 2500 PSI rated at full flow
PVER Series Vane Pumps
The PVER pumps are a variable displacement, pressure compensated vane pump with a direct pressure regulating governor spring for fast on/off response.
1-10 GPM, 500-1000 PSI rated at full flow

HPV Series Piston Pumps
The 3500 PSI pumps has 4 different fully interchangeable controls to match your system will generate less heat and not have as much need for valves and regulators while still maintaining constant pressure. Simple construction for long, dependable life.
6-20 GPM, 3500 PSI rated at full flow
29 GPM, 3000 PSI rated at full flow