Custom Solutions
Monnier has become known as the air preparation manufacturer where "custom solutions become standard" because of its extensive expertise in developing application specific products for customers. The following provides just a few examples of the custom product solutions Monnier has developed.
Special Mounting
Requirements: A small regulator to control the air and oil flow of an oil-fired furnace using waste oil. Solution: Two identical miniature low-pressure regulators on small manifolds controlling the air and oil separately.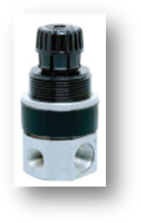 Medical Application
Requirements: Gentle pressure is required for use on air splints. The splint operates at an adjusted pressure between 1-3 PSIG. In addition, noise must be at a minimum. Solution: Monnier engineered a special relief valve with special porting which enables direct mounting to a second relief valve. A stacked diaphragm keeps noise to a minimum.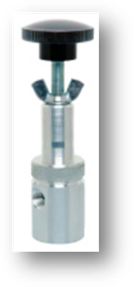 High Pressure Regulator
Requirements: Needed on a portable CO2 bottle used for a unit that lifts medical patients. Solution: The machined regulator handles supply pressure to 100 PSIG and is equipped with an oversized adjustment knob for ease of adjustment.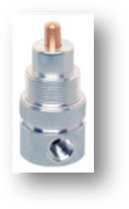 Precision Regulator
Requirements: A regulator activated by a slide cam which operates with high cycle times to dispense ice cream. Solution: The flow of ice cream can be precisely controlled due to the accuracy and response of this custom regulator.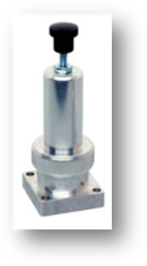 Special Porting
Requirements: To reduce and simplify complex piping. Solution: This filter housing has one 3/8" inlet and three 1/8" outlets. This greatly reduced the complex piping previously used.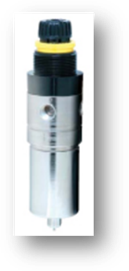 ENP And Anodizing
Requirements: Car washes, food processing, and oil field control panel equipment are just a few of the situations that require ENP or anodized units. Solution: Monnier's use of high grade aluminum bar stock for machined components allows the application of many special finishes.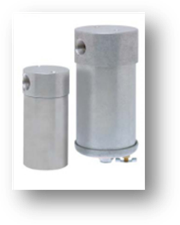 Rugged And Environmentally Tough
Requirements: The rail car industry needed a filter housing for use on bottom-discharge coal cars that could withstand tough environmental conditions. Solution: Monnier's filter housings are made from solid bar stock and can stand up to the vibration and demanding conditions of being mounted on a coal car.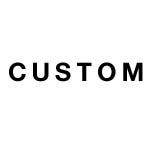 Custom Valve
Requirements: A special media valve which was air pilot actuated with an integrated "OR" logic gate. Solution: A valve with a shuttle pilot control and a durable high flow main stage was designed for this unique application. Monnier's manufacturing expertise extends to machining special control valves for full integration of multiple circuit components