Hydronics Air-Drive Hydraulic Pumps and Power Packs
Hydronic Corporation, founded in 1953, is a manufacturer of air driven fluid pumps and hydraulic units. The pumps and units by Hydronic are often used to support powering clamps, fixtures, presses, lift tables, production machines, and other special purpose equipment.
The air-driven hydraulics use compressed are to generate high fluid pressure for energy efficient pressure intensification. Hydronic can offer a wide range of components, systems and accessories to meet all of your exact requirements.
Advantages air drive hydraulic units have over conventional electric motor or engine drive hydraulics:
Explosion proof and additional controls such as a motor starter is not required
Stall and maintain pressure with no energy consumption
Capable of variable rates of flow and react totally to system demand
Fluids of a wide viscosity and compatibility range can be pumped
Do not generate heat from relief valves or case drains
Can be packaged in small systems, and can generate "high" pressures economically (individual Hydroni pumps up to 26,500 PSI)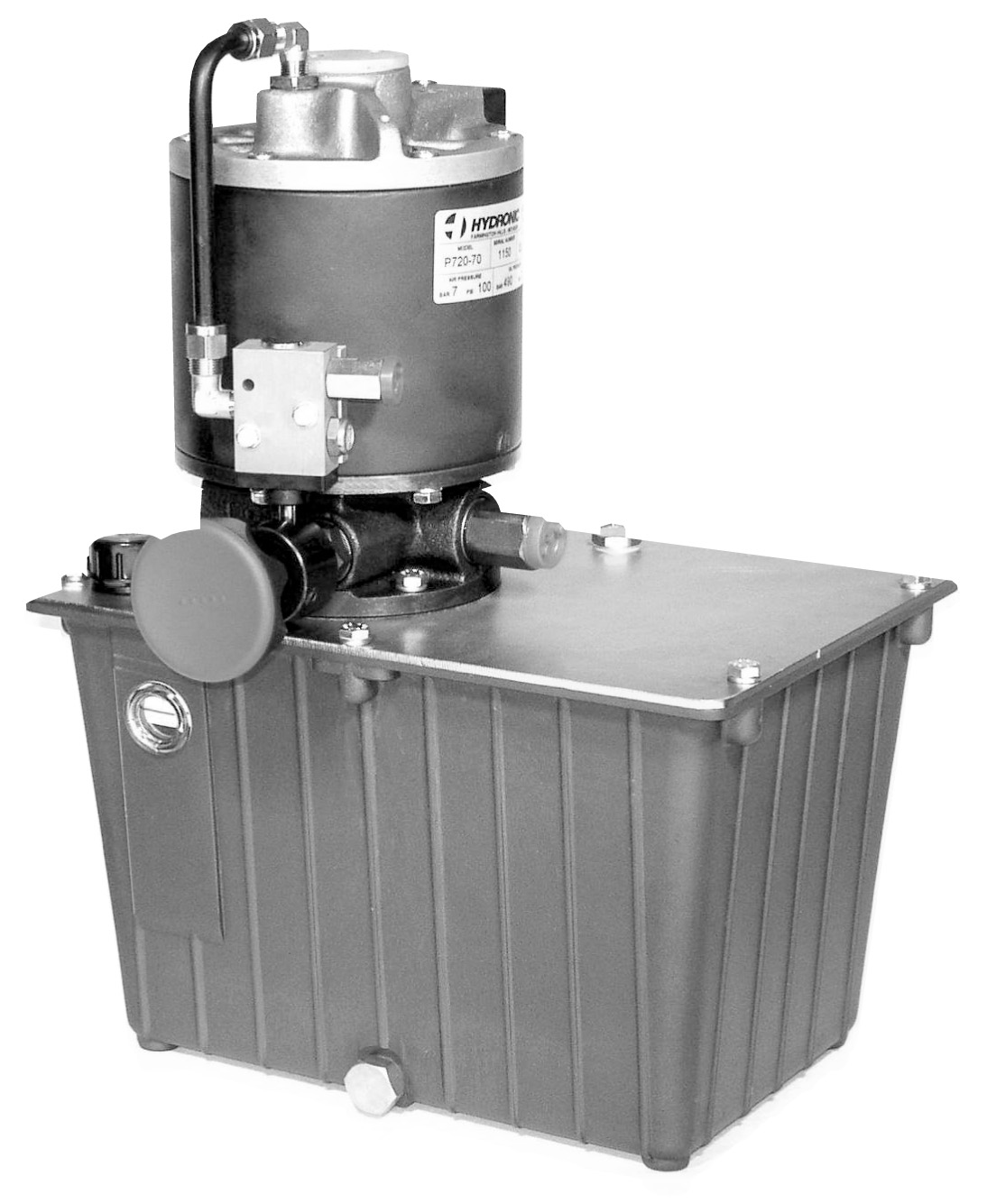 P720 Series
These air-driven hydraulic pump models are supplied with internal valving to power single-acting cylinders. This pump, like other models, stalls when maximum hydraulic pressure is reached and will automatically make up for any losses due to leakage. The hydraulic pressure is then vented to tank via either the remote pneumatic release valve or the handwheel options, both integral to the unit itself. Inlet air pressures of 30-100 PSI can provide hydraulic pressures up to 10,000 PSI in the five different ratios available. Integral reservoirs from 1/3 gallon capacity (standard in this range) to 2-1/2 gallon are available.
They are typically used for automated production and manufacturing applications with clamping circuits.
Either manual or pneumatic (P720A) dump valve to release
Four reservoir sizes available: 1/3, 3/4, 1-1/2, and 2-1/2 gallon capacity
Pneumatic release valve option is excellent for remote or automated pressure and release operations
No Directional hydraulic valves are required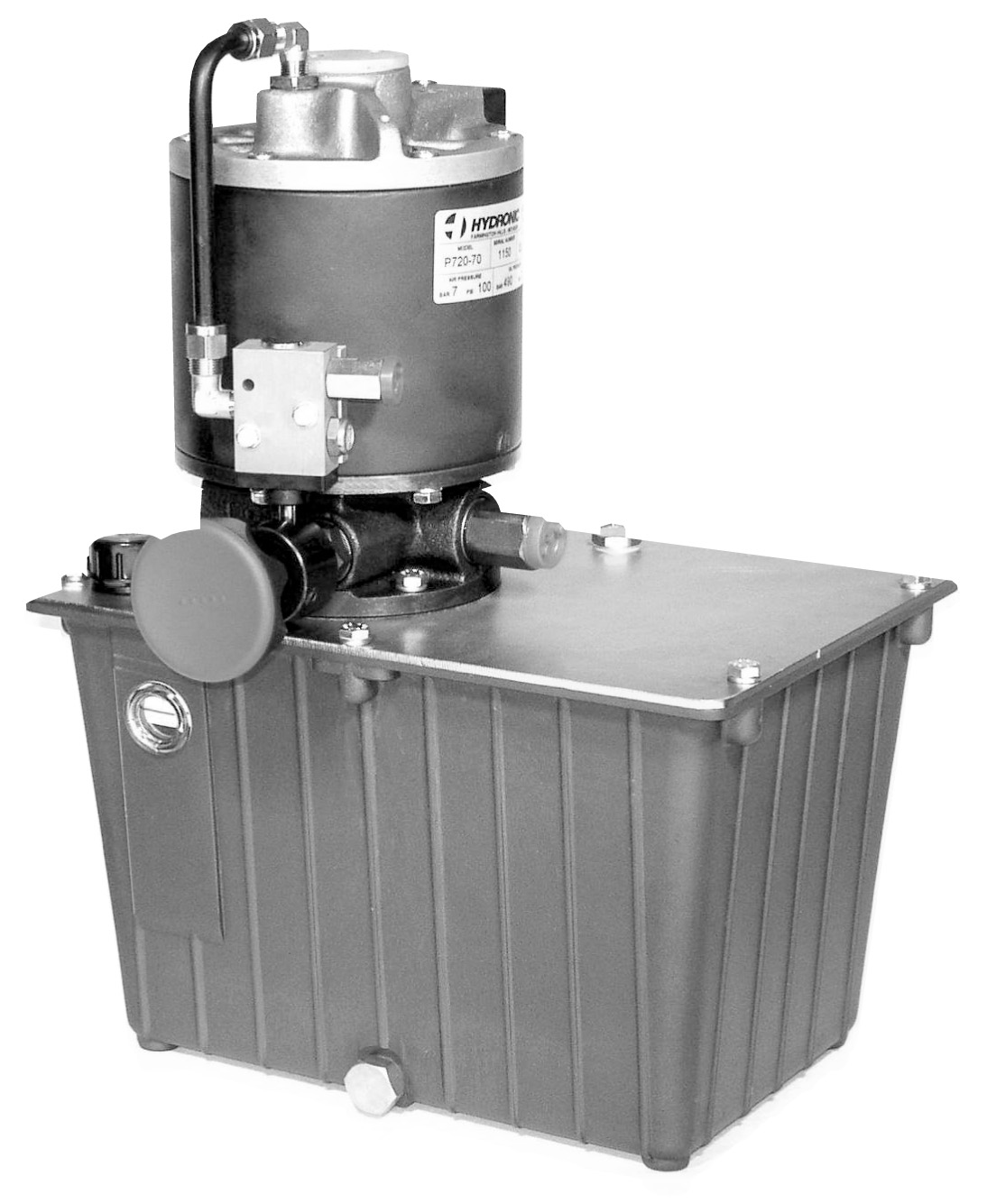 P801 Series
This extremely compact series of pumps is for use with compressed air pressures from 15-100 PSI and is used where high delivery rates of fluid are not required. Available in six pressure ratios, it can reach up to 6,500 PSI hydraulic pressure and flows up to 2.5 GPM. It may be mounted horizontally or vertically using suitable brackets, and can be fitted on an existing reservoir or supplied with our reservoirs ranging in size from 1/3 to 2-1/2 gallon capacity.
Excellent for clamping, accumulator charging, filter presses, auxiliary power sources, valve actuators and many other high pressure, low flow hydraulic requirements.
High performance, single-acting pump
Compact and rugged
With or without reservoir (four different capacities)
Can be used with water (INOX version)
Can be wall mounted, tank top mounted vertically or horizontal
Can be supplied as a complete system including valves, air preparation, etc.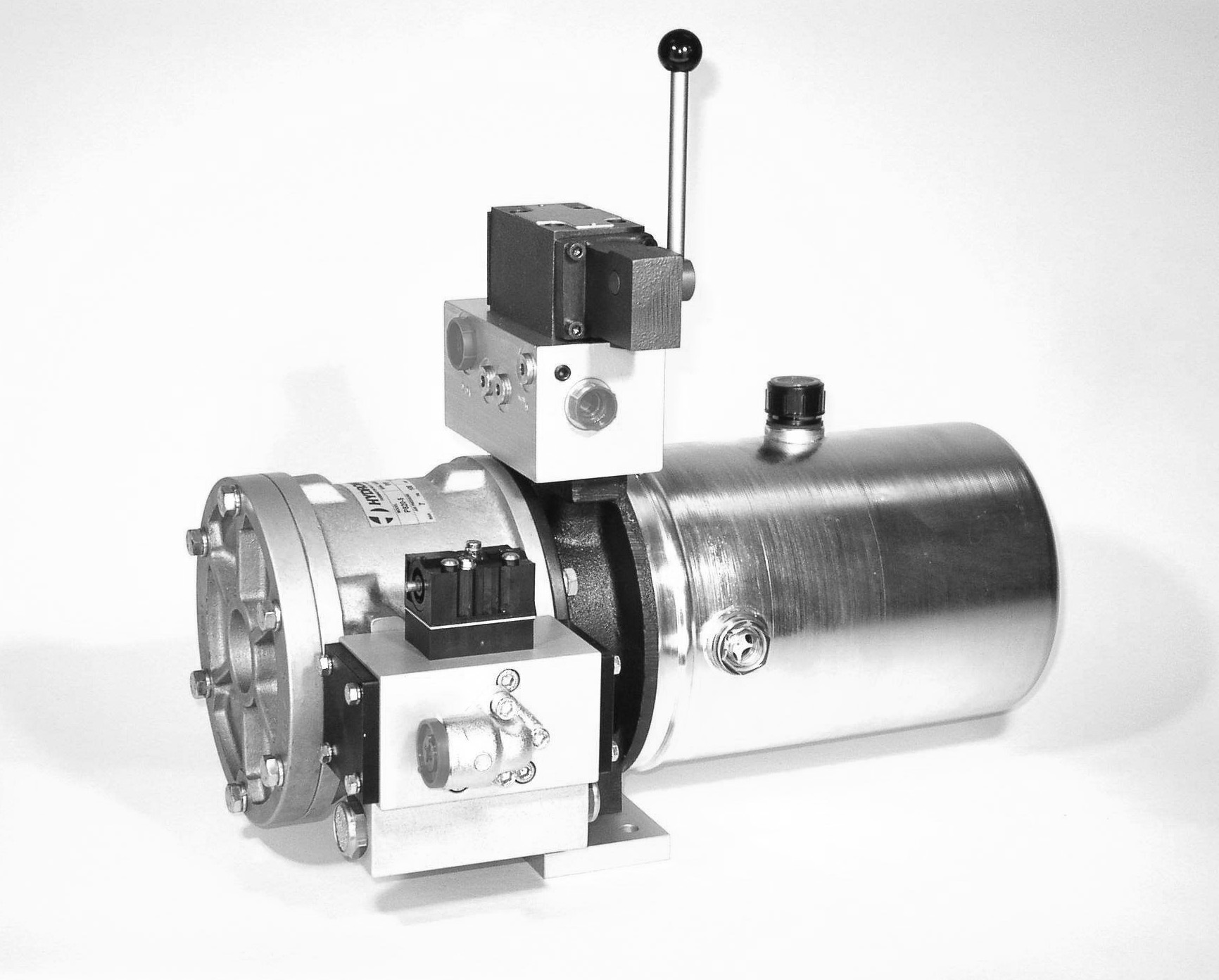 P820 Series
These high performance, high fluid flow air driven pumps are typically used in place of electrically driven power units where electricity is not available or practical, where the duty cycle is intermittent and energy would normally be wasted and turned into heat. The double acting air drive allows for high hydraulic flows and smooth output. Five ratios are available with pressures up to 4000 PSI and flows up to 6 GPM utilizing 20-100 PSI air supplies.
These pumps can be mounted horizontally or vertically, mounted on an existing reservoir, or as most commonly supplied, with an integral reservoir of either 2/3 or 2-1/2 gallon capacity. These pumps can also be fitted with alternative seals for the pumping of unique fluids. The units can also be fitted with a D03 pattern for mounting a directional valve on the pump itself.
Hydronic Corporation specializes in supplying complete power systems utilizing this series of pumps. Applications include material handling equipment, small presses, bending machinery, clamping, and many other traditional fluid power applications.
High performance, double-acting pneumatic motor
High flow rates at mediume to low hydraulic pressure
Mount vertically or horizontally
Air operation means intrinsically afe use in hazardous areas and applications
Ported manifold with pressure and return connection
Installation of directional control valves with DO3 connection surface available
With or without reservoir (different capacities)
Complete units with directional control valves, pressure switches, accumulators, pressure gauges, etc are available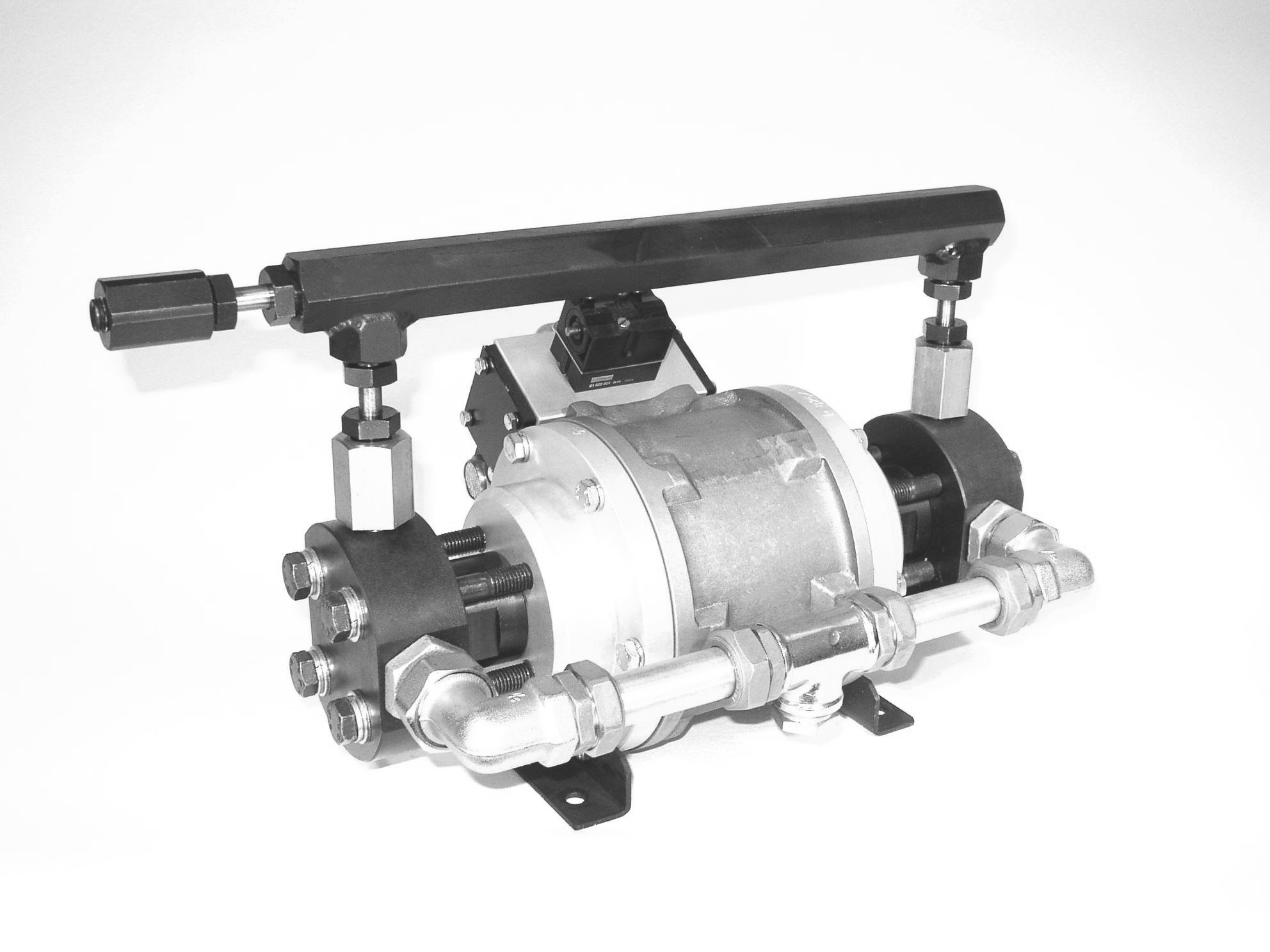 P825 Series
This pump achieves its double-acting characteristics through opposing pumping elements with four ratios available in pressures up to 26,500 PSI. This unique design incorporates Chevron seals and metallic check valves to ensure safe operation and a long life. A stainless steel option is available for use with water. Hydronic can design and supply complete high pressure systems as well as hoses and connectors.
This unit is excellent for hydrostatic testing and material deformation applications.
High performance, double-acting pump with opposing pumping elements is used in high pressure hydraulic circuits for pressurization, resistance and deformation testing.
Standard model is fitted for oil applicaitons. Stainless steel (INOX) model is used for applications where water is used.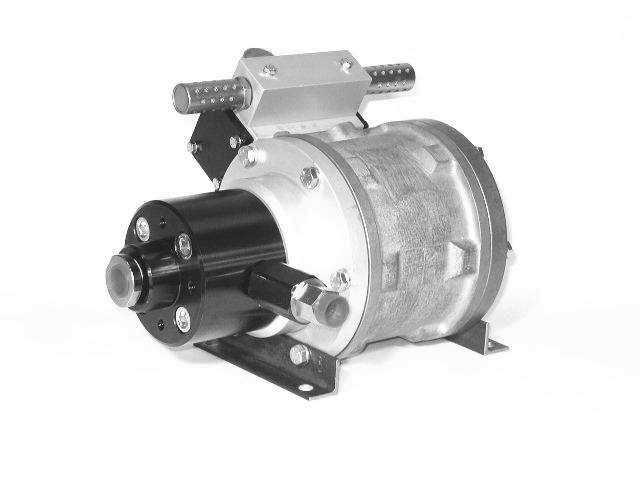 826 Series
This model is a high pressure power unit that incorporates four ratios of high pressure pumps, up to 26,500 PSI., on our standard 2-1/2 gallon reservoir. Either an air-operated or manual release valve is incorporated in the pump itself, relieving high pressure oil to the tank.
Applications include high pressure hydraulic circuits and hydrostatic testing.
Excellent for small fluid power or clamping circuits.
Manual or pneumatic oerated release valve releases oil to tanks.
No directional valves are needed for single acting actuators
INOX version available for water applications.
Ultra-high pressure ratings are excellent for material and hydrostatic testing.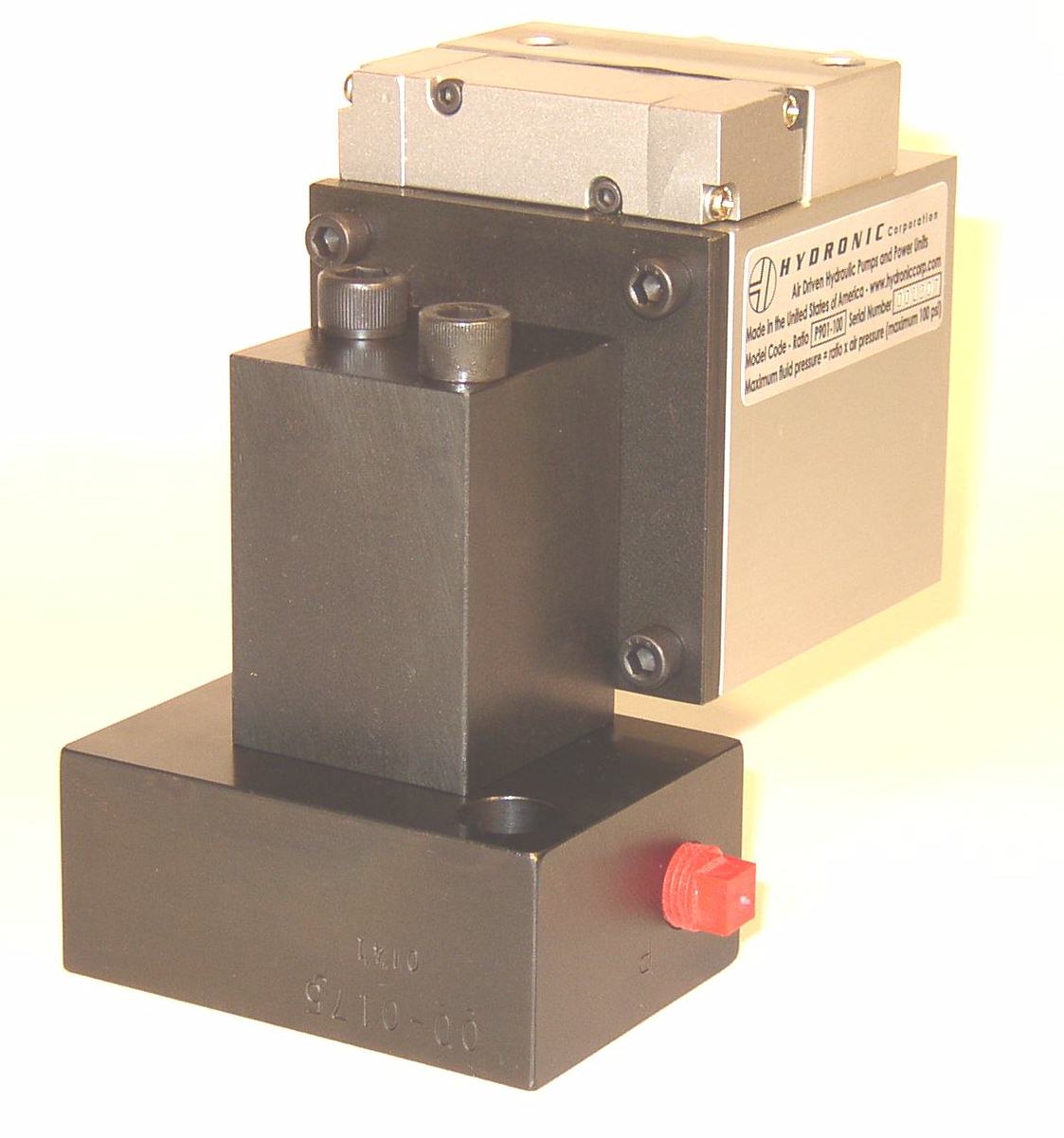 P901 Series
The P901 range of pumps is designed to be used in conjunction with manifolds utilizing cartridge valves or D03 type valves in order to reduce costs, envelope sizes and threaded joints. They are built for a long, steady and reliable service in a wide range of industrial applications.
The modular concept encompasses the latest in seal technology as well as established and durable metal ball type check valves. The air drive section is double acting, a feature which eliminates the need for large springs to return the piston assembly. This mechanism avoids the waste of energy associated with a spring return type and allows more of the air energy to be turned into hydraulic performance.
Clamping and workholding applications, as well as other areas where hydraulic pressure has to be held for periods of time, benefit from the seven models currently available. Flows up to 1 GPM and pressures up to 10,000 PSI can be achieved easily and quietly from the various ratio models. Where higher outputs are required, two different models can be arranged on the same manifold to provide high flows and high pressures. This hydraulic performance would be needed where a large bore cylinder is required to extend under low load and only the last part of the stroke provides the clamping force.
For maximum ease of installation, the P901 models can be mounted vertically or horizontally and the air drive body can be rotated through three 90° positions around the hydraulic section. This allows the air valve/manifold assembly to be set in the most advantageous place.
The maximum speed of the unit is controlled by careful gallery sizing to approximately 400 cycles per minute. This maintains the life of the seals to their full term, as well as avoiding the collision damage normally associated with single acting devices.
High performance, double acting pneumatic motor.
Miniature sizes with good flow rates per minute.
Self limiting design for maximum cyclic speeds.
Pressure sustaining feature for clamping and workholding.
Manifold interface eliminates screwed connections.
Reservoirs and custom manifolds available.
Complete power units with valves, reservoirs, air regulators, and gauges available.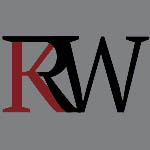 M850 Series
This unit is a conventional single shot, air-over-oil intensifier booster that does not have the ability to automatically make up for system leakage or usage. It does incorporate a large double-acting air cylinder with three ratios available, providing pressures to 6400 PSI and oil volume displacement of up to 10 cubic inches. An integral transparent reservoir allows for visual indication of oil level and availability.
Typical applications include clamping, punching, marking and riveting equipment.
Double acting air/oil booster
This unit can be mounted horizontally and vertically (reservoir must be oiented for vertical mounting)
Integral reservoir
Cost effective method of developing high pressure hydraulics (where the unit does not automatic oil makeup like the "p" series pumps are capable of
Excellent for use in conjunction with high force, low stroke actuators
360° availability of oil ports and automatic air venting