Flairline Accessories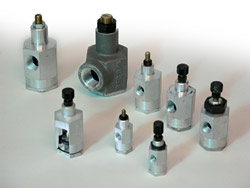 Flow Controls
Flairline's industry standard flow control valves incorporates the unique O-Check dilating O-ring design for rapid open/close without any other moving parts. This is a unique feature that allows free flow in one direction, accurately metered flow in the opposite direction. The right angle design eliminates additional 90 degree piping to the cylinder port. Standard metering needle design includes compound needle taper of 5 and 15 degrees and fine adjustment stem threads. Five NPT sizes 1/8"-3/4" are available as are adjustment knobs and panel mounting. Optional swivel mounts allow 360-degree rotation for ease of installation.
Full range from 1/8" to 3/4"
O-Check dilating ring only moving part
Flow control cycles 50 million plus times without discernable wear
Accurate pressure adjustment and secure panel mounting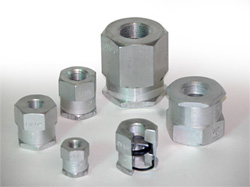 Check Valves
Flairline's lightweight check valves feature a dilating O ring as the only moving part. This allows quick actuation and millions of trouble free cycles. Five standard NPT sizes from 1/8"-3/4" are available, including high temperature material. The O-Check design is the industry standard for high flow, no maintenance, and long useful life.
Full range from 1/8" to 3/4"
Low cracking pressure
Free flow and millions of cycles
High temperature material available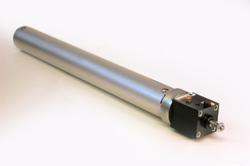 Rod Lock
Flairline Pneumatic Rod Lock cylinders made primarily for dynamic and static applications. This product is designed to protect machinery from damage during a maintenance shut down or air supply failure. Upon a sudden loss of air pressure it immediately locks a cylinder piston rod from movement. This product can be suitable for infrequent dynamic braking, however repeated use as a brake will cause wear and reduce holding forces. Rod Lock is available with or without Manual Release feature. The Manual Release feature allows the device to be unlocked when no air supply is available. This product exceeds NEMA 4X. Flairline Rod Locks operate in both directions with the same holding force.
Fit 1.5" to 8" NFPA cylinders
Spring set , air released
Bi-directional holding
Fast response time
IP 67 rated - exceeds NEMA 4X
60 psi release pressure
Minimal backlash
Available with or without manual release feature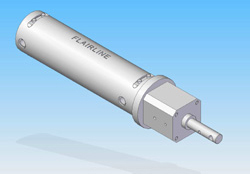 Torque Reaction Air Balancer (TRAC)
This product is designed to provide ergonomic assistance to operators and operations where repetitive weight lifting is required. The TRAC provides a nearly zero G lifting force for the operator assisted machining or assembly operations. The Flairline non-rotating torque cylinder counteracts the twisting load of the rod attached equipment and maintains the proper orientation for the operator. This product makes operators and processes more efficient and reduces costs. The non-rotating system is completely enclosed within the cylinder making it more compact and efficient. TRAC product is available in Light duty and Medium Duty model.
Unique low friction technology
Near Zero Gravity movement
Built for millions of cycles
Compact design
Easily repairable
Competitively priced
Easy Mounting Cap End
NFPA pivot mounts standard
Rod Locking optional
Low Maintenance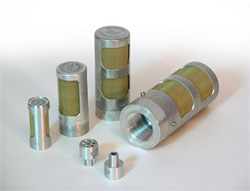 Boretti Silencers
Flairline offers a complete line of silencers with outstanding features and performance to quiet noisy air-operated devices and prolongthe life of your air tools. The Boretti silencers reduce air turbulence upsteam, within the silencer and upon exhaust thus providing less irritating air exhaust and excellent muffling performance than other silencers.
Quiet exhaust operation
Low exit velocity
Easy installation
Inexpensive models
Reduces blockage from dirty air
8 models from 1/8" to 1" NPT
Miniature size available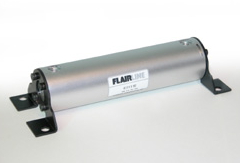 Volume Chambers
Flairline offers a wide choice of volume chambers for a variety of uses. These products are constructed of lightweight aluminum heads and caps. The barrels are hard-anodized for corrosion resistance. optional mountings are NFPA Interchangeable and are made of anodized aluminum or oxided steel.
Standard Bore Sizes: 1-1/2" to 4"
Any stroke up to 130"
150 psi maximum air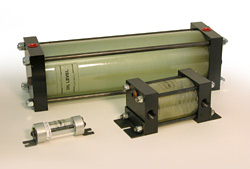 Air/Oil Tanks
Flairline offers a broad range of AO-Series Air / Oil tanks. These Air / Oil tanks store hydraulic oil, which can be pressurized with shop air to provide smooth cylinder operation and control. Cylinder speed is controlled using flow controls to adjust exhausting fluid from the cylinder. The cylinder barrels are made of a transparent wound fiberglass and epoxy composite thus providing an easy to read level indicator as well as high strength and non-denting body. Products contain internal baffles that reduce aeration at both the air and fluid end.
Standard Bore Sizes: 2" to 8"
Angle, Tapped, Stud or Flange Type Mounting Styles
200 psi maximum air