Power Sources
From simple manual pumps, to heavy-duty, and even customizable electric-driven hydraulic pumps, Enerpac has a wide range of hydraulic power sources to meet your specific workholding needs. Combined with a wide range of accessories, Enerpac hydraulic power units are versatile, durable and design for long life and reliability.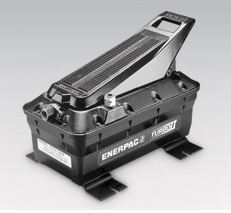 PA-Series Turbo II Air-Hydraulic Pumps
Feature an on-demand stall-restart operation maintains system pressure, providing clamp security
Quick and powerful hydraulic supply in an economical air-powered pump
External adjustable pressure relief valve
Internal pressure relief valve provides overload protection
Operating air pressure: 50-125 psi
Reinforced heavy-duty lightweight reservoir for applications in tough environments
5 valve mounting options provide flexibility in setup and operation
Reduced noise level to 75 dBA
Composite air piston seal allows operation on completely dry air supply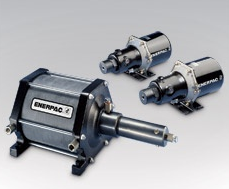 AHB, B-Series Air Hydraulic Boosters
For high production applications
High speed operation with constant output
Extended service life
Large oil delivery per stroke allows quick filling of cylinders for clamping or punching
AHB Series: Fiberglass wound air chamber eliminates possibility of rust from air moisture
AHB Series: Designed for fully automated production applications
B Series: Built-in stroke sensor for automatic cycle operation 30 VDC switch closes 1" before end of full air piston stroke
B Series: Internal self-bleeding automatically purges air from system when booster piston is at highest point in circuit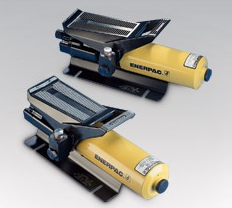 PA-Series Air Hydraulic Power Pumps
Portable air hydraulic power pumps
Patented air saver design – minimal air usage for lower cost operation
Quiet internal muffler 80 dBa
360 degree swivel oil and air fittings
External adjustable relief valve
Built-in 3-way, 2-position valve provides advance-retract cycle for single-acting cylinders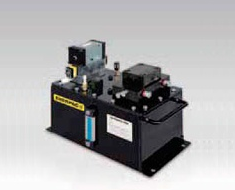 ZAJ-065 Series Air Pump
Suited for use in production applications
1-gallon steel reservoir with sight glass, mounting flange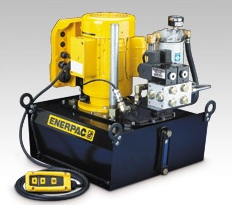 ZW-Series Z-Class Electric Workholding Pump
Pallet coupling pumps provides momentary pressure and flow to fixture
Pallet coupling pumps ideal for pallet disconnect systems
Continuous connection pumps provides solenoid control of one single- or double-acting circuit
Continuous connection pumps includes pilot operated check valve ensuring pressure is maintained in circuit
Single station D03 pumps industry standard mounting for manual or electric valves
Single station D03 pumps options: backlit LCD, heat exchanger, pressure transducer, level & temperature switches and roll bars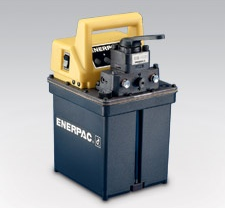 WE-Series Submerged Electric Pumps
Reduce cycle times for improved productivity
Two-speed pump unit provides rapid cylinder advance
Submerged dual voltage induction motor, runs cooler and quieter
Available with heat exchanger for higher duty cycle applications
Externally adjustable relief valve – no need to open pump when reducing pressure
Reservoir mounting holes for easy mounting to fixed surface
Full length side tube for easy monitoring of oil level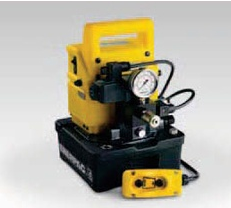 WU-Series Economy Electric Pumps
Lightweight and compact design, Enerpac economy electric pumps weigh 26 lbs
Two-speed pump operation reduces cycle times
24 VDC remote motor control
Starts under full load
115 or 220 VAC 50/60-cycle universal motor
For use with single-acting cylinders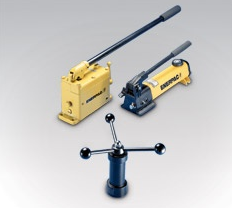 P, SP-Series Hand Pumps
P series hand pumps power single-acting cylinders
Internal pressure relief valve (except SP-621) prevents over-pressurization
Screw pump SP-621 can be mounted in any position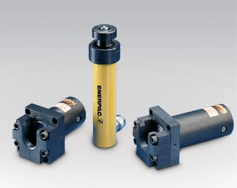 B, RA-Series Activator Wand And Booster
Features a no-leak palletized system, eliminates oil loss at connection point
Contamination resistant closed hydraulic system
Mechanical energy transfer system uses external cylinder to operate receiver booster
Activator wand has a 2 to 1 ratio of input versus output pressure
Booster can be mounted in either horizontal or vertical position.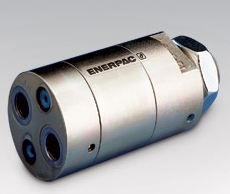 PID-Series Oil Intensifiers
Have a wide range of intensification ratios allows for adapting to various operating pressure requirements
High flow units intensify low inlet oil pressure to high outlet pressure
Internal bypass valving enables high output flow rates
Includes dump valve, eliminates the need for an external pilot check valve
Compact and self-contained design allows for ease of installation
Select fit of all internal components provides long operating life