Enerpac Joint Separation Tools
Correct joint disassembly is especially important during maintenance operations. Separation of stubborn joints is often a laborious and time-consuming task. Traditional methods may carry the risk of personal injury or damage to expensive joint components. Our wide range of Joint Separation equipment is designed specifically to provide quicker, simpler and safer solutions.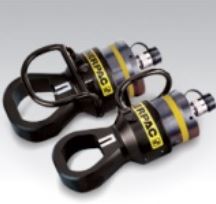 NS-Series, Hydraulic Nut Splitters
Specially designed to suit standard ANSI B16.5 / BS1560 flanges
Single-acting (spring return) cylinder
Tri-blade technology provides three cutting surfaces on a single blade
Interchangeable heads provide maximum nut range flexibility
Preset scale allows controlled blade extension, which avoids damage to bolt threads
Grip tape and handle included for more secure manoeuvrability
Nickel-plated cylinder body for excellent corrosion protection and improved durability in harsh environments
Internal pressure relief valve for overload protection.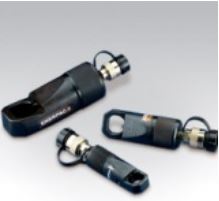 NC-Series, Hydraulic Nut Splitters
Compact and ergonomic design, easy to use
Unique angled head design
Two blade design (NC-D models) for time saving operation – nuts are split from two sides in one action
Single-acting, spring return cylinder
Heavy duty chisels can be reground
Nut Splitters include spare chisel, spare set screw and wrench used to secure the chisel. A CR-400 coupler is standard.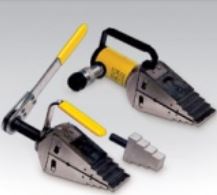 FSH, FSM-Series, Industrial Spreaders
Integrated wedge concept: friction-free, smooth and parallel wedge movement eliminates flange damage and spreading arm failure
Unique interlocking wedge design - no first step bending and risk of slipping out of joint
Requires very small access gap of only 6 mm
Stepped spreader arm design - each step can spread under full load
Few moving parts mean durability and low maintenance
Safety block SB-1 and ratchet spanner SW-22 included with FSM-8
Safety block SB-1 and RC-102 cylinder included with FSH-14.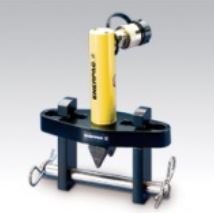 FS-Series, Pin Type Hydraulic Flange Spreaders
Lightweight, ergonomic design for ease of use
Adjustable jaw widths from 70 to 216 mm for a wide range of applications
Single-acting, spring return RC-Series DUO cylinder for fast troublefree operation.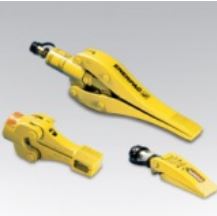 WR, A-Series, Hydraulic Wedge and Spread Cylinders
Enerpac hydraulic wedgie and spread cylinders have a capacity of .75 to 1.00 tons.
Single-acting, spring return
WR-15: For long stroke spreading applications
WR-5: For use in very confined work areas
A-92: Spreader attachment screws onto RC-Series 10 ton cylinders (except RC-101) *