Enerpac Joint Assembly Tools
Correct joint assembly and alignment are crucial to joint integrity. Whether you are pulling in a pipeline connection, fitting winches to a boat deck or overhauling a dragline, the wide range of Enerpac's Joint Assembly products provide simple-touse, dependable solutions to the time-consuming, less accurate traditional methods.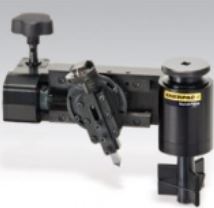 FF-Series, Mechanical Flange Face Tool
Makes refacing easy – hand operated machine tool can be set up anywhere without the need for air, electric or hydraulic power
Lightweight and portable (15 kg in storage box)
Adjustable cutting head for reface of flat flange surfaces of pipes with flange OD facing range 25,4 - 304,8 mm [1 - 12 inch]
Interchangeable collets for ID mounting range 25,4 - 152,4 mm [1-6 inch] allow the user to work on many different flanges with minimal time between set-ups
Interchangeable lead screws suitable for refacing damaged raised face (RF), flat-face (FF) or lens-ring joint flanges
Tool body with expanding collets centers itself providing real concentric operation.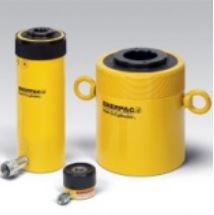 RCH-Series, Hollow Plunger Cylinders
Enerpac hollow plunger cylinders provide versatility in testing, maintenance and tensioning applications. The hollow plunger design allows for both pull and push forces
Single-acting spring return
Cylinders are nickel-plated, floating center tube on models over 20 tons increases product life
Baked enamel finish for increased corrosion resistance
Collar threads for easy fixturing
RCH-120 cylinders include AR-630 coupler and has 1/4 NPTF port
RCH-121 and RCH-1211 cylinders have FZ-1630 reducer and AR-630 coupler, all other models feature CR-400 coupler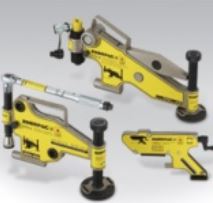 ATM-Series, Flange Alignment Tools
Enerpac ATM-Series tools rectify twist and rotational misalignment quickly, safely and without the need for an external power source
Appropriate for use on most ANSI, API, BS and DIN flanges
Reduces set-up time: no need for chains, pulleys or rigs
Safety strap helps provide secure operation
Can be installed and used in any position
Portable, lightweight design enables easy transport and use, even in remote locations.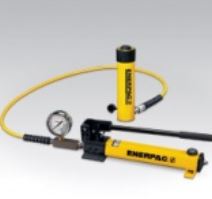 SC-Series, Single-Acting, Cylinder-Pump Sets
Optimum match of individual components
All sets are ready-for-use and include single-acting cylinder, two-speed pump, 1,8 m safety hose and gauge and adaptor
Choice between handpump, air driven foot pump or cordless pump
RC-Series DUO, General Purpose Cylinders: for maximum versatility
RCS-Series, L ow Height Cylinder: ideal where space is restricted
RCH-Series, Hollow Plunger Cylinders:for pushing and pulling applications.