Enerpac Hydraulic Bolting & Torque Wrench Pumps
Enerpac offers a wide range of hydraulic torque wrench pumps, with electric or air motors to power single or double-acting hydraulic torque wrenches. Safe and efficient new Enerpac Z-Class ZU4T-series pumps with universal electric motor made especially for repetitive bolting tasks.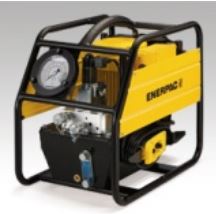 TQ-Series, Electric Wrench Pumps
Optimized flow technology three stage pump maximizes productivity of the pump and tool while minimizing heat build-up and downtime
Heat exchanger is standard
A quiet (< 85 dBA), lightweight pump with a compact footprint — easy to move around
Durable roll cage with an ergonomically sized handle and shielded gauge
Maintenance made simple with a brushless motor designed for continuous usage
Straightforward operation with a simple pressure set and convenient to use 20 ft. pendant cord
IP55 Rating for superior dust and water protection
Transparent gauge overlays in Ft.lbs and Nm for all Enerpac S and WSeries torque wrenches provide a quick torque reference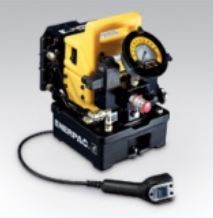 PME,PMU-Series, Portable Electric Torque Wrench Pumps
Powerful two-speed pump is lightweight and easy to carry
Standard heat exchanger package on PMU-Series keeps pump cool under extreme use
Glycerin filled gauge with scales reading in psi and bar+
Transparent overlays in Nm and Ft.lbs for all Enerpac torque wrenches provide a quick torque reference
Universal motor for a high power-to-weight ratio; generates full pressure on as little as 50% of the rated line voltage
Adjustable pressure relief valve for accurate torque adjustments and precise repeatability
ZU4-Series, Electric Torque Wrench Pumps
Features Z-Class high-efficiency pump design; higher oil flow and bypass pressure, cooler running and requires 18% less current draw than comparable pumps
Powerful 1,25 kW universal electric motor provides high power-toweight ratio and excellent low-voltage operating characteristics
High-strength, molded composite shroud protects motor and electrical components, while providing an ergonomic, non-conductive handle for easy transport
Pendant provides additional safety for the operator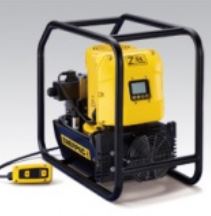 ZE-Series, Electric Torque Wrench Pumps
Auto-Cycle feature provides continuous cycle operation of the torque wrench as long as the advance button is pressed (pump can be used with or without auto cycle feature)
LCD readout provides pressure and torque display and a number of diagnostic and readout capabilities never before offered on a portable electric pump
Totally enclosed, fan-cooled industrial electric motors supply extended life and stand up to harsh industrial environments
High-strength, molded electrical enclosure protects electronics, power supplies and L CD readout from harsh environments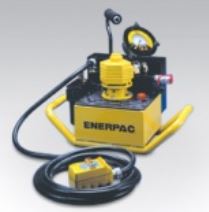 PTA-Series, Compact Pneumatic Torque Wrench Pump
Compact and portable
Handle located directly over pump's center of gravity for greater ease in carrying
High bypass (125 bar) for faster torque cycles
High power-to-weight ratio suits all Enerpac torque wrenches
Glycerine filled pressure gauge with scales reading in bar/psi
Transparent overlays in Nm and Ft.lbs for all Enerpac torque wrenches provide a quick torque reference
Internal safety relief valve, factory preset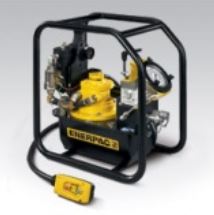 ZA4T-Series, Air Driven Torque Wrench Pumps
Two-speed operation and high by-pass pressure reduces cycle time for improved productivity
Glycerin filled pressure gauge with transparent overlays in Nm and Ft.lbs for Enerpac torque wrenches provide a quick torque reference
Standard Regulator-Filter-Lubricator with removable bowls and auto drain
Heat exchanger warms exhaust air to prevent freezing and cools the oil
Ergonomic pendant allows remote operation up to 6 m.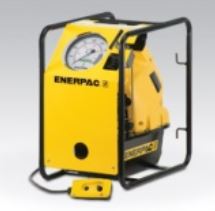 ZUTP-Series, Electric Tensioning Pumps
Two-stage pump design provides high flow at low pressure for fast system fills and controlled flow at high pressure for safe and accurate operation
6 m pendant cord enables motor control from a distance
Angled 153 mm pressure gauge, with polycarbonate cover, built into a protective metal shroud for improved visibility and protection
Safety relief valve limits output pressure
Compact, lightweight and rugged aluminium frame for increased durability and ease of handlin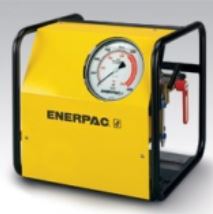 ATP-Series, Air Pump
General purpose, high pressure air driven two speed pump unit for products requiring up to 1500 bar hydraulic pressure
Compact, lightweight, rugged steel frame for protection and easy handling
Prelubricated pump element, does not require an airline lubricator
Prelubricated pump element, does not require an airline lubricator
Easily adjustable output pressure control
Integrated and protected easy to read glycerin fi lled gauge
Safety relief valve limits output pressure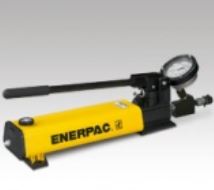 HPT-Series, Tensioning Hand Pump
Lightweight and portable high-pressure hand pump
Two-speed operation displaces a larger volume of oil per stroke, reducing cycle times for many testing applications
Includes a pressure gauge and coupler for direct connection to Enerpac GT-Series Bolt Tensioners
Integrated relief valve set at 1500 bar.